'There are So Many Unknowns': Gearing Up for COVID-19 Among Asylum Seekers Returned
to Mexico
Since the summer of 2019, the make-shift encampment in Matamoros of asylum seekers in the Remain in Mexico program has faced numerous challenges, most obviously a lack of adequate shelter, basic necessities, essential services, and security for its 1,500 to 3,000 residents who hail mostly from Central America, Cuba, and Venezuela. American and international organizations have worked with asylum seekers to provide food and clean water, legal services, medical care, and schooling for children in the camp, but the situation has remained precarious and dangerous for many camp residents. Now, amid the global outbreak of the COVID-19 pandemic, the struggles of everyday life for asylum seekers waiting in Matamoros have been compounded by a new fear—the potential spread of the deadly virus.
The camp sits just over the international bridge connecting Matamoros with Brownsville, partly on land controlled by the Mexican federal government, which provided bathrooms, a charging station, and a clothes-washing station for camp residents in late 2019. It also set up a covered area for tents, though most camp residents chose not to live there. They instead organized their tents into groups (sometimes by nationality) on the grassy expanse of municipality-owned land closer to the river. Each camp cluster had a tienda that distributed donated supplies; many had cooking areas and make-shift showers and hammocks.
A few moments of particular significance mark the camp's history, such as a protest by camp residents on the international bridge, an attempt to move camp residents to another shelter in Matamoros, and the bussing and abandonment of camp residents to southern Mexico. But until the COVID-19 crisis, most residents remained in the camp because they felt safest close to the bridge where they could wait while pursuing their asylum claims in U.S. immigration courts on the other side of the border—a process which takes months. Court hearings have been suspended because of the COVID-19 crisis, and those with April and May hearing dates have them rescheduled, extending their wait further.
On four visits to the camp between August 2019 and January 2020, I was struck by both the depth of desperation and hope I sensed there—especially among the young people that made up the majority of the camp's population. Many of the adults I spoke with were traumatized survivors of persecution in their home countries and of kidnapping, torture, or rape in Mexico. Many had family members in the United States who they relied upon for support. Some camp residents had jobs in Matamoros, particularly in a local factory that produced makeup compacts. Global Response Management (GRM), an American organization, employed asylum seekers to help provide medical care for people both in the camp and living in Matamoros.
The presence of humanitarian aid in the camp increased over time, though it was never sufficient or led by an international organization like the UN. An organization called Team Brownsville and a handful of attorneys from Brownsville, TX were there from the beginning. The Sidewalk School—a joint effort of volunteers and asylum seekers—began providing instruction to children in the camp on Sundays. Lawyers for Good Government later set up and staffed a legal office right near the camp to help residents with their asylum applications. World Relief Kitchen began helping cook and serve meals. GRM expanded from providing basic care and supplies in a pop-up tent in the camp in fall 2019 to examining 50 patients a day in a group of solid structures in the camp including a well-equipped medical unit, a women's exam room, a children's playroom, and a pharmacy in early 2020.
But the job for humanitarian aid providers and volunteers working to keep those in the camp safe soon became even more difficult. In March, GRM began planning for an outbreak of COVID-19 in the camp—a serious challenge for a place in which it is impossible to socially isolate due to overcrowded living conditions and shared toilets and showers. With the help of the lead camp doctor, Cuban asylum seeker Dairon Elisondro, GRM began disseminating information to camp residents about the virus and encouraged them to spread tents apart and keep them ventilated. GRM distributed gloves and wipes as well as multivitamins to fortify immunity among camp residents. It also asked residents to self-identify if they had pre-existing medical condition like asthma that put them at high risk. No COVID tests were available, but GRM began trying to monitor and quarantine in special tents anyone who had a fever, cough, or stomach upset, and had tested negative for the flu.
When the United States closed its border on March 20 to all but essential travelers, things became even more difficult in the camp. On March 21, two buses escorted by the Mexican National Guard came to the camp to take people from Matamoros to southern Mexico. A few days later the Mexican government flew about 100 asylum seekers from Matamoros to Tijuana, where there is a federal shelter. On April 8, U.S. Customs and Border Protection (CBP) and FEMA announced that personal protective equipment could not be exported or transported over the border to ensure supplies stayed in the United States. Then, during the second week of April, a Mexican government plan to move the encampment to a stadium in Matamoros was called off by state authorities.
Daily life at the camp quieted down. The compact factory closed. People began doing as much as they could, including washing clothes and cooking, within their micro-communities. Food distribution was decentralized to the tiendas to avoid lines and congregating. The Sidewalk School gave children in the camp tablets for virtual instruction. At first, volunteers from Team Brownsville and the nonprofit group Angry Tias & Abuelas of the Rio Grande Valley continued to cross the border and take supplies over to Matamoros, but not as frequently as before in order to limit spread of the virus. "We used to have physicians come to the camp to volunteer with us—but these folks can't travel because they are needed in their home hospitals or are volunteering in the U.S. right now," Andrea Leiner of GRM told me. Now, asylum seekers are making cloth masks for camp residents on donated sewing machines.
By April 28, only staff from the Sidewalk School, GRM, and a pastor were regularly crossing from Texas to Matamoros. The Mexican Immigration Authority (INM) enclosed the camp with chain-link fencing. INM and GRM monitor the entrance, making sure outsiders do not enter and checking temperatures for residents who come and go. INM has told several camp residents that officials would begin going tent by tent to review for Mexican immigration documents, and that those without such documents would be deported.
Before COVID-19, GRM had limited success getting a local hospital to admit emergency cases from the camp. There are only a few usable ventilators and intensive care beds in the five public hospitals in Matamoros. GRM has set up a 20-bed field hospital at the edge of the camp to treat patients with COVID-19. It took almost a month of negotiation with the Mexican authorities to bring the equipment they needed for the hospital across the border. But as more cases of COVID-19 spread near Matamoros—some from migrants deported and expelled to Mexico by the United States—they felt a true sense of urgency.
"GRM has worked differently in different places," Helen Perry of GRM said. "In Iraq, the authorities wanted us there, knew we did good work, and wanted to help facilitate it. In Bangladesh, we worked more under the radar like many others. In northern Mexico, this has not been done before. There was no preestablished process, no clear protocols for us to follow before COVID, and now this is an unprecedented situation. We struggled to get clear and firm answers from the authorities and to know which ones to work with."
Looking to the future, "there are so many unknowns," Perry added. As of now, there are no confirmed cases of COVID in the camp. "We don't know when the surge in COVID cases will be—in a week, in three months, in five months?" If there is a widespread outbreak Perry and Leiner worry about a high mortality rate; 25 percent of residents have co-morbidities that put them at risk. If many folks in the camp get really sick, they will only be able to provide compassionate care.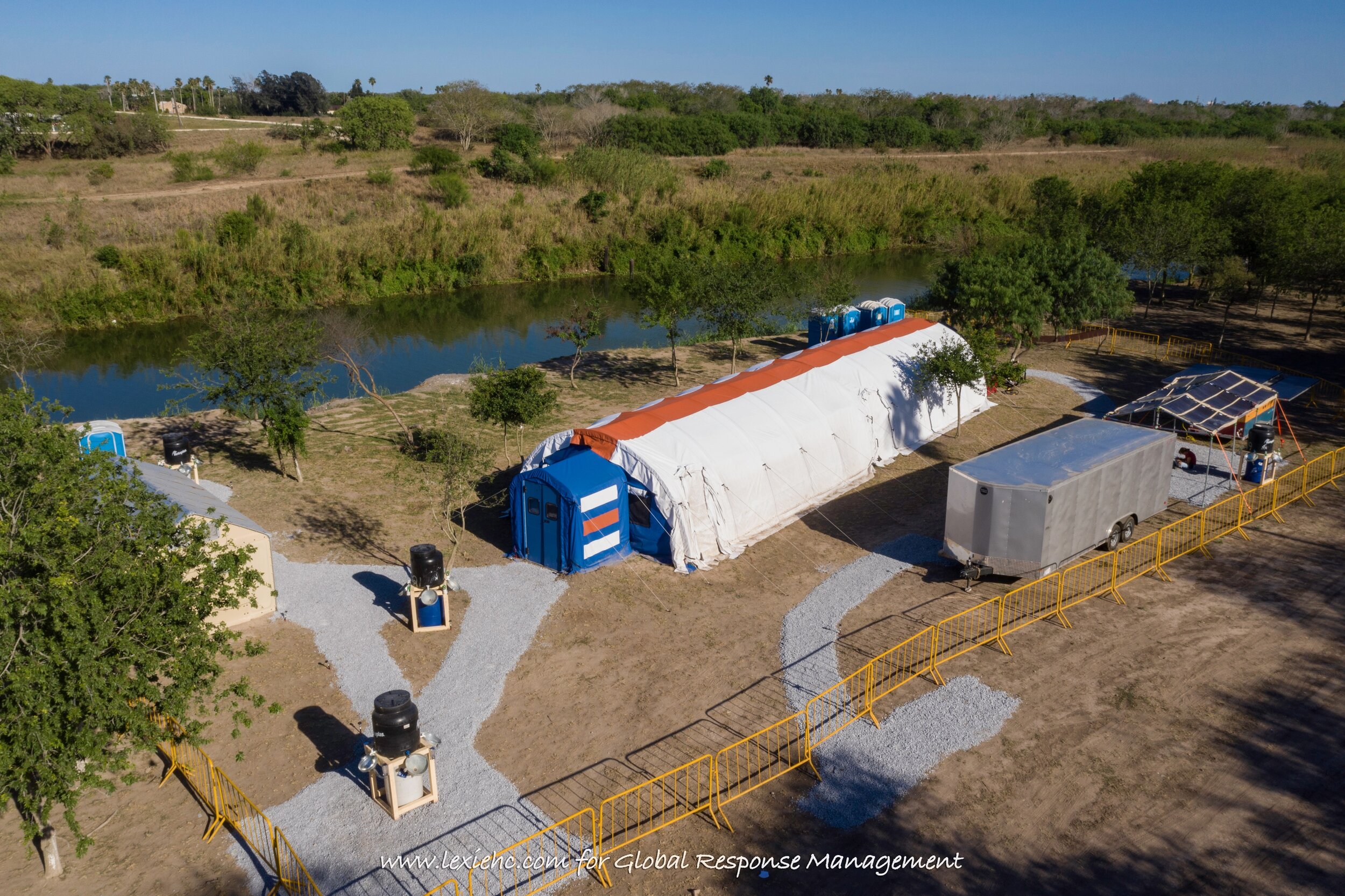 Leiner and Perry also worry about people being bused daily by the Mexican government from the encampment to the southern Mexican state of Chiapas, where the public health care system is incredibly weak and where so many migrants are already stranded without services. GRM is doing an assessment in Tapachula to possibly build another clinic and field hospital there. They have spent so much energy setting up one field hospital—but it may be that the outbreak will happen thousands of miles away.