Nevertheless, Idlib's Women Persist:
Hiba Ezzideen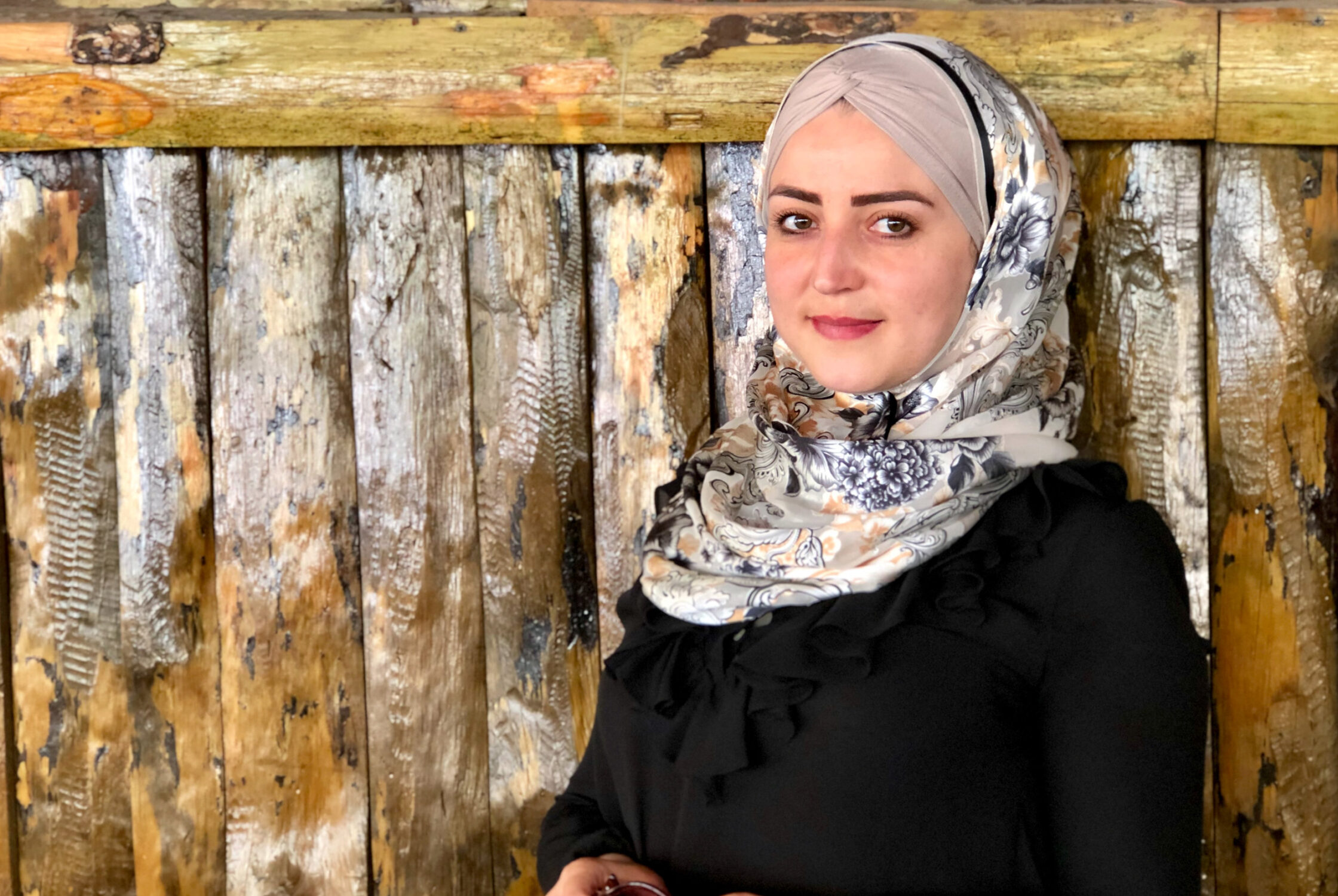 Hiba Ezzideen, a Syrian activist living as a refugee in Turkey, grew up in Idlib. When the Syria uprising started in 2011, she was working as a university lecturer in nearby Raqqa, teaching English literature. A feminist fan of Virginia Woolf and inspired by news of the Egyptian uprising that deposed long-term President Hosni Mubarak, she supported the revolutionary spirit she saw opening up throughout the country.
"Participation of women in public issues was not welcome in the Syrian community in Raqqa," she said. "But when I saw what was happening in Egypt, I knew that we had to try."
She participated in demonstrations and started organizing politically in Raqqa despite concerns over the violent turn the country was taking. One day late in 2011, she entered her lecture hall and saw that someone had hung a large portrait of Bashar al-Assad behind her lectern. It provoked in her an act of defiance that would change the course of her life.
"I took my car key and put it through the eye of Bashar al-Assad. I got in my car and drove back to Idlib. From that time until now, I haven't been to regime-controlled areas," Hiba said.
Back in Idlib, Hiba took up more work coordinating activists. But in 2014, things in her hometown started to change.
"First people started coming in from outside of Idlib. We started to see black flags in the demonstrations," she said. "People were not aware of what it meant. I started reading about jihadism and the Taliban. I didn't know much about it yet. But once I understood more, I started a campaign documenting the violations of ISIS."
Boldly, she started running an anonymous watchdog site called Idlib Assassination that documented crimes committed by ISIS from 2014-15. She would wear a video camera under her abaya and anonymously post what she recorded in the streets. She remained anonymous for some time, but one day things changed.
"In 2015 I was driving back from my office to my house and a group of people fired at me," she said. "They sent me threatening messages on Facebook."
She shut down the site and fled to Turkey. A year later, she smuggled herself by sea to the Netherlands and claimed asylum. But soon she felt guilty.
"I felt I encouraged people to demonstrate, and now other people are dying," she said. "After one year, I decided to go back to Syria. I walked back from Greece to Turkey. … It was eight hours walking."
Hiba made it back to Idlib, but realized her activism put her in danger there and posed a risk to her family. She fled once again for Turkey and has been there since. When Turkey opens their border for Syrians during the twice-yearly Eid holidays, she returns to the province to see family.
Hiba said she was in awe of the resolve of women she encountered when she visited displacement camps in Idlib during the Eid al-Fitr holiday in June 2019.
"I saw women collecting exploded barrel bombs," she said. "They were using them as wash basins to bleach their husbands' clothes because it is traditional to wear white during the Eid holiday. They were collecting carnation seeds and crushing them to sweeten the smell of the clothes."
"When I asked about it, they said, 'Bashar is trying to kill us, and we are fighting him with carnation seeds.'"
Witnessing these small acts of resistance and resilience gave her hope.
The lives of women in Idlib have changed dramatically since the war broke out—and not just for the worse. The majority of households in the region are now female-headed, remaking the role of women in the historically conservative area.
"The war changed even the professions of women," she explained. "After the revolution, you saw female business owners. They're working on exporting clothes. They have their own shops. They have their own restaurants. It means a lot to us."
Many women in Idlib, like Hiba, will continue to resist.
"Women are still trying to go to universities and schools," she said. "They're still willing to give birth. They're still willing to work. Idlib is their last resort."
This feature was excerpted from "Losing Their Last Refuge: Inside Idlib's Humanitarian Nightmare."