"Is This Really Europe?" Asylum Seekers Living in Dismal Conditions
in Greece
For several years, desperate men, women, and children fleeing decades-long instability in Afghanistan, the war in Syria, and persecution in dozens of other countries, have arrived in Greece to seek safety in the European Union (EU). A 2016 deal between the EU and Turkey temporarily curbed the numbers of asylum seekers traveling to Greece, but 2019 saw another spike in people making the trip across the Aegean. This upturn added tens of thousands of residents to the already overcrowded and dangerous camps where asylum seekers live. Instead of refuge, most of the Afghans, Syrians, Africans, and others who have arrived in Greece seeking safety in the EU, have encountered appalling living conditions, a restrictive asylum system, and bureaucratic purgatory.
Now, there are more than 40,000 people living between five islands in Greece waiting for the government to review their requests for asylum. However, the COVID-19 pandemic has ground all processing to a halt. Greece suspended all operations over a month ago, and a timeline to re-open is unclear. Since early April 2020, no new asylum seekers have arrived on the islands, but the tens of thousands who were already there are living in fear and uncertainty. A Refugees International team traveled to the Greek islands of Lesvos, Samos, and Chios at the end of 2019. Conditions in the camps were squalid. Few services were available. Asylum seekers forced to remain in these island camps are now at a high risk of contracting the virus due to the overcrowded and unsanitary conditions.
The below photos offer a glimpse of daily life for those seeking asylum.
A German Coast Guard patrol boat docked in the port of Samos island. This boat goes out at night to patrol the waters between the Greek islands and Turkey, searching for small boats of undocumented asylum seekers attempting to reach Europe.
A newly arrived Afghan asylum seeker in Moria camp on Lesvos island looking for a place to pitch her tent.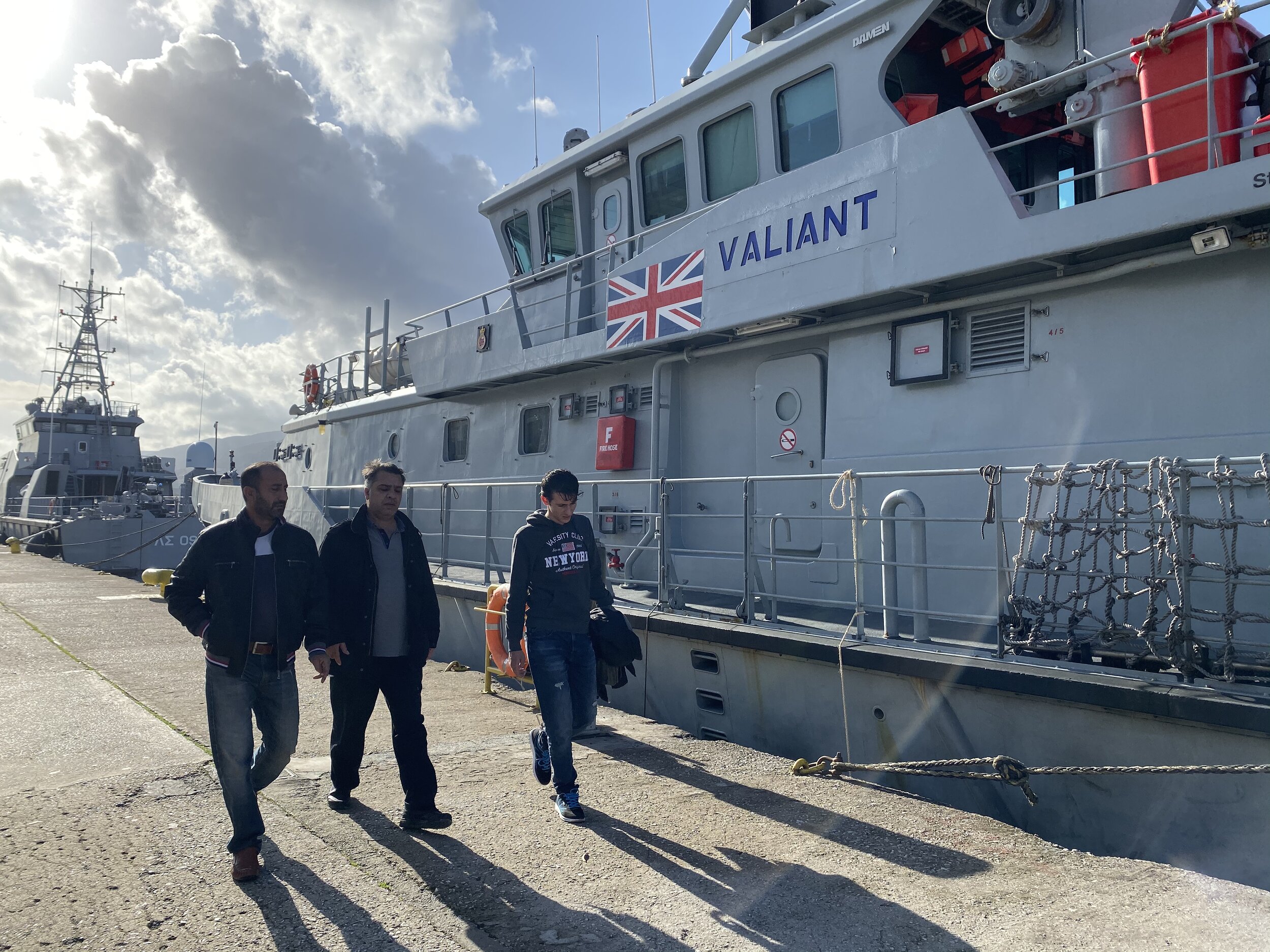 Asylum seekers passing a British Coast Guard border patrol boat in the port of Mytiline, Lesvos. European countries provide support to Greece by deploying boats and border patrol officers to the Greek islands. These boats intercept undocumented asylum seekers traveling from Turkey to Greece.
The overflow area commonly known as the "Olive Grove" outside of the Moria Reception and Identification (RIC). The Greek government built Moria to accommodate no more than 3,000 people. There are currently at least 20,000 people living there.
An Iraqi asylum seeker outside of his shelter in Vial camp on Chios island.
A girl outside of Vial camp on Chios island. There are almost 14,000 children living in the asylum seeker camps on the Greek Aegean islands. None of them have access to formal school.
Vial Reception and Identification (RIC) center on Chios island. There are about 5,000 people asylum seekers living in Vial, most in tents outside the official RIC.
An Afghan woman and her young son with down syndrome. The UN and Greek government helps the family pay rent for an apartment in Chios town rather than living in the camp because of his special needs.
An Afghan couple outside of the tent they live in with their two children on Chios island. They have been waiting for their asylum decision for several months. Because the GAS is not operating due to the coronavirus, they are unsure how long they will be living on Chios.
A living area for asylum seekers outside of the official RIC on Chios island.
A young Syrian family living in a tent in Moria. They arrived in November 2019 after fleeing violence in their city. Ahmed is only 28 years old and was studying to be a lawyer. He wants to continue his studies in Europe, but he has no idea how long he will be living in Moria. He told Refugees International, "I really can't believe that I was one of the brightest students in my class, and now I am living in the mud heating water over a fire for my family. Things have changed so much."
A young mother waits outside of her tent in Moria that she shares with two other families.
A Syrian asylum seeker and his two young sons flattening an area where they can pitch their tent outside of Moria RIC.
Two Afghan asylum seekers wait in the line for hours at a food distribution center inside Moria RIC.
Asylum seekers on the Greek islands use their extra money to buy tarps to help keep the rain out of the small, flimsy camping tents in which most of them live.
A teenage Afghan asylum seeker in Moria RIC. She lived in Iran for ten years before fleeing to Greece and told Refugees International that she does not even remember Afghanistan. "What would I go back to?"