Aid Cut-Off Threatens Nearly Three
Million Ukrainians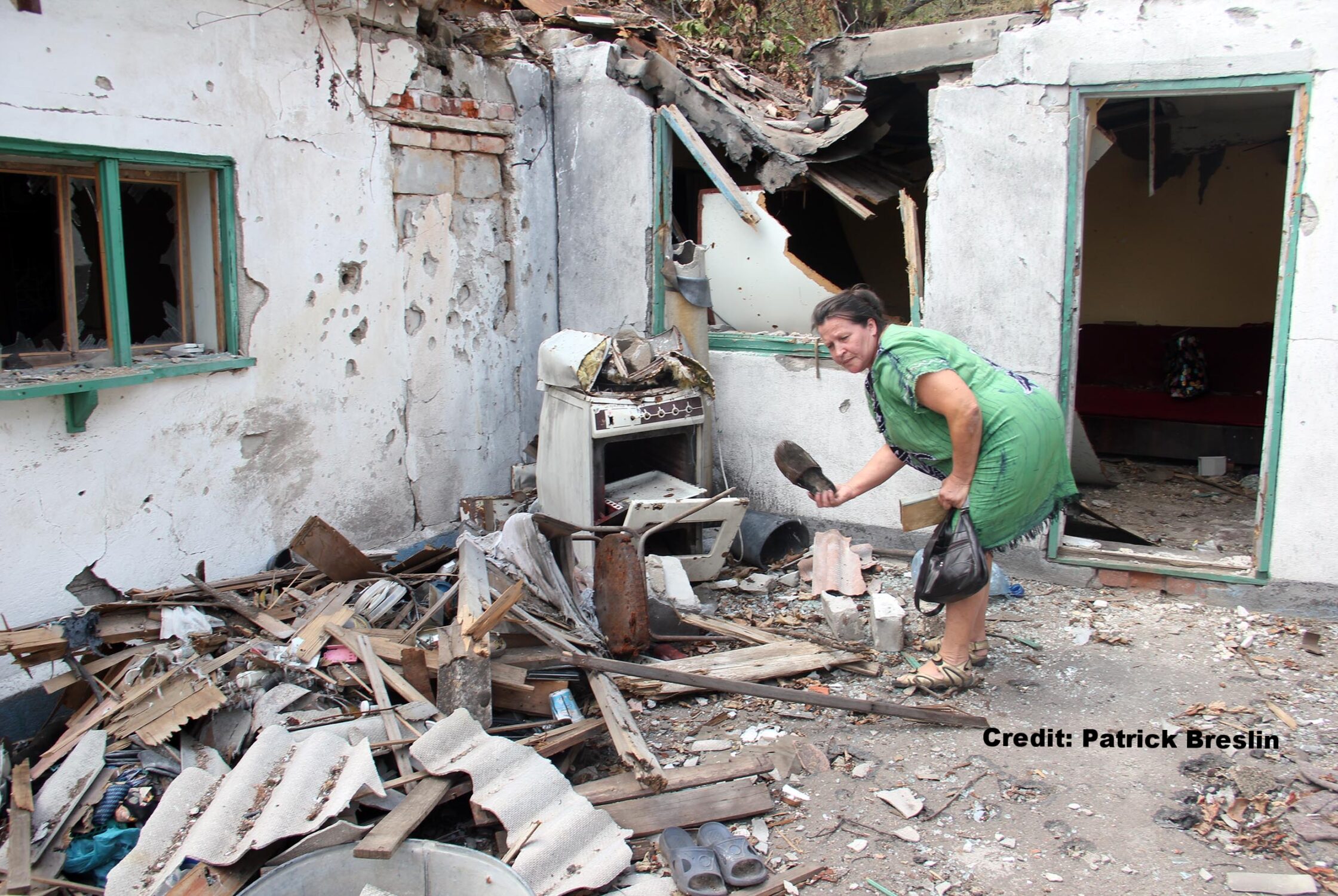 Ukraine's war with Russian-backed separatists in the country's eastern Donbas region has entered its third year, causing the displacement of more than three million in Ukraine's east, claiming the lives of almost 10,000 people, and injuring 13,000 others — many of them victims of indiscriminate shelling and landmines. Today, international humanitarian assistance to the most needy of the 2.6 million war-affected and internally displaced people (IDPs) is almost at a standstill. International donors have failed to respond to the United Nation's appeal for $214 million in aid assistance. With the world facing four famines and the Syrian refugee and displacement crisis, donors for Europe's major displacement crisis are in short supply — almost in as short supply as the prospects for implementing the terms of the Minsk peace process between Ukraine, Russia, and the so called separatist leaders in Donetsk and Luhansk.
"Don't forget Ukraine…we will find a way…we will endure." – Olena Honcherova, 2016 Refugees International Holbrooke Award Honoree
With less than 7 percent of the funds requested in hand, the UN and local organizations face the prospect of aid shutdown despite the growing need for food, shelter, medicines, healthcare, education, and home repairs for war-affected and displaced families. Rising food and energy prices, the lack of jobs, adequate shelter, exhaustion of resources, and exposure to continued shelling and battle caused cut offs of water, gas and electricity increase the hardships and trauma experienced by residents of the conflict zone. Failure of the ceasefire agreement, widespread use of landmines and the presence of unexploded ordinances, and new fears of attacks on commercial facilities with toxic materials and increased disruption of utilities threaten public health and safety for both war victims and humanitarians.
The new Trump administration has expressed concern about the conflict, but to date has not stepped forward with significant humanitarian aid. At the United Nations in February, U.S. Ambassador Nikki Haley condemned Russia's aggression: "The dire situation in Eastern Ukraine is one that demands clear and strong condemnation of Russian actions." Ambassador Haley went on to pledge U.S. support for sanctions against Russia until its occupation of Crimea is ended. But the humanitarian situation has not elicited such attention.
"The dire situation in Eastern Ukraine is one that demands clear and strong condemnation of Russian actions." – Ambassador Nikki Haley
In Crimea, Russia's annexation of that Ukrainian province has produced serious human rights abuses, the outlawing of Tatar organizations, persecution of Tatar and Ukrainian ethnics, and crackdowns on free press and anyone suspected of opposing Russian rule. Residents of Crimea who refused to accept Russian citizenship are denied access to healthcare, education, or jobs. No UN or international NGO humanitarian aid is possible.
Inside Ukraine, some nationalist groups (often the veterans of Ukraine's anti-terrorist operation in Donbas) were unhappy with their government's inability to oust the separatists or negotiate a "fair" peace agreement. As a result, in January, they acted to impose their own trade and economic blockade. They seized control of three rail crossings, stopping all rail traffic and shipments between the breakaway areas and the rest of Ukraine which depended on coal shipments. The separatists, not to be outdone, nationalized industries and businesses under their territorial control, cutting off payments of taxes to Ukraine and the shipping of coal, which Ukraine needs for industry and energy production. This blockade threatens the livelihoods of 500,000 workers, more factory closings, lost jobs, and higher energy and food costs.
Ukraine countered with tightened restrictions on movement of any goods into the separatist areas, demanded the separatists fully implement the February 2015 Minsk cease fire agreement, pull out their heavy weapons to create a security zone between the forces, and rescind their nationalization of Ukrainian enterprises. Ukraine's military authorities in Donetsk imposed a curfew on March 31, banning all movements from 10:00 pm to 5:00 am, prohibiting aerial or other photos of anything relating to the military and limited all tourism, hunting or fishing to designated spots. Ukraine's order exempted humanitarian shipments from the van, but provided no guidelines on how humanitarians could conduct such humanitarian aid.
While spring has arrived in Washington, it is still cold in Ukraine and the economy is weak, anti-corruption efforts languish, and the conflict and retaliations have heated up. Families now in both small towns with many displaced people as well as in large cities like Mariupol, with 500,000 residents and which RI visited in 2015, face the prospects of aid cutoffs, lost drinking water, outages of electricity and gas due to shelling, and restrictions by combatants on repair work and at times the costs and materials required to repair civilian infrastructure.
Timely U.S. and international humanitarian aid to Ukraine could strengthen the ability of its most needy citizens to survive, reduce the hardships and threats to public health faced by its war-affected and IDPs by supporting repairs and furnishing needed supplies, while also bolstering the work of Ukrainian civil society organizations committed to humanitarian principles and peacebuilding.
"Timely U.S. and international humanitarian aid to Ukraine could strengthen the ability of its most needy citizens to survive…"
National polls conducted by the National Democratic Institute find Ukrainians still are optimistic their children's lives will be better, that they desire a more democratic government, are concerned about poverty and public safety, but are unwilling to settle for a peace that would require them to give up control of the breakaway eastern oblasts (districts). They are hoping that their friends will encourage and support them to get through these difficulties – as last year's Refugees International honoree told our anniversary dinner guests, "Don't forget Ukraine…we will find a way…we will endure."