On October 23, 2018, Refugees International hosted its 16th Annual New York Circle, "Act for Refugees."
RI and its Board of Directors honor artist and humanitarian Ai Weiwei with Refugees International's 2018 Exceptional Service Award.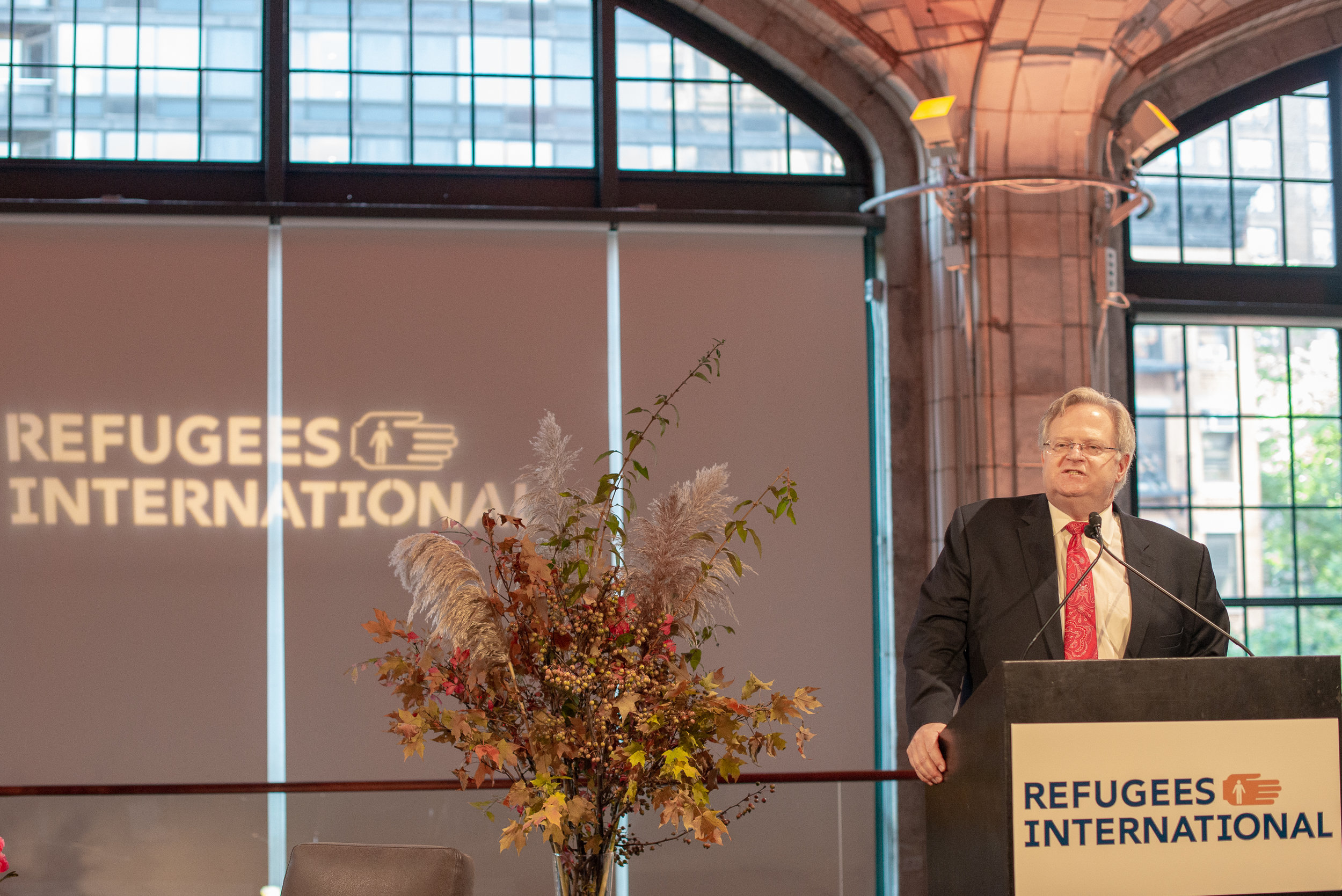 The world witnessed Ai Weiwei's courage and tenacity after the 2008 earthquake in Sichuan, China when, against government pressure, Mr. Ai worked tirelessly to expose the truth about how victims tragically perished during that disaster. His continuous work and advocacy on behalf of refugees has brought great attention to the plight of vulnerable communities impacted by persecution and conflict, while emphasizing the failures of governments to uphold principles of inclusion and humanity.
His book, Humanity; his exhibition, "Good Fences Make Good Neighbors;" and his 2017 documentary, "Human Flow," illustrate the staggering scale of the refugee crisis and its profoundly personal human impact.
Alexandra Munroe, Senior Curator and Senior Advisor at the Solomon R. Guggenheim Museum and Foundation, introduced Ai Weiwei's discussion with award-winning journalist and editor of The New Yorker, David Remnick. The in-depth conversation focused on Ai Weiwei's work related to human rights and humanitarian principles.
Catering was provided by refugee chefs from Eat Offbeat.
The New York Circle takes place at a critical time as more than 68 million refugees have been forced to flee their homelands due to conflict, persecution, and extreme climate-related disasters.
Disturbingly, the world is again witnessing ethnic cleansing and crimes against humanity, such as those perpetrated against the Rohingya people in Myanmar. Conflict and drought are creating famine conditions in Yemen, Nigeria, Somalia, and Sudan. These terrible events are unfolding as anti-refugee sentiment is on the rise across the world and within the United States as long-standing U.S. commitments to aiding and resettling refugees appear to be under threat.
Thomas Sadoski and Amanda Seyfried and Maureen White and Steven Rattner served as the event's co-chairs.
Thomas Sadoski is an award-winning actor and RI board member. A Broadway veteran, he currently appears on the CBS show, "Life in Pieces," and is well-known for his role as Don Keefer in Aaron Sorkin's HBO series "The Newsroom." Amanda Seyfried is an actress and animal rights activist. She recently reprised her role as 'Sophie' in this summer's box-office hit "Mamma Mia: Here We Go Again." Her film credits include "Les Miserables," "Dear John" and "Mean Girls." Her television credits include "Twin Peaks" and "Big Love."
Maureen White is an RI Board Member and Senior Fellow at the School of Advanced International Studies at Johns Hopkins University. She was the Senior Advisor on Humanitarian Issues in the Office of the Special Representation to Afghanistan and Pakistan in the U.S. Department of State (2009-2013) and represented the U.S. government at the United Nations Children's Fund (1997-2001). Her husband, Steven Rattner, is Chairman and Chief Executive Officer of Willett Advisors LLC. He serves as the Economic Analyst on MSNBC's "Morning Joe" and is a contributing writer to The New York Times Op Ed page. Previously, he served as Counselor to the Secretary of the Treasury and led the Obama Administration's successful effort to restructure the automobile industry.